Tennis: Get your Footwork Right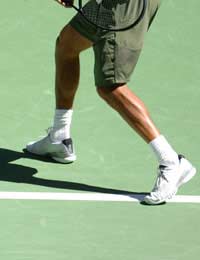 Your technical ability with a racket is only going to get you so far if you are fit enough and quick enough to get around the court and counter each offensive thrust made by your opponent.
So many rookie tennis players neglect their footwork simply because it isn't an aspect of the game that they think is important. How wrong they are. Take a simple forehand. Your body has to shape up for the shot and getting that right means reaching the ball in the first place, then providing a solid base from which to execute it.
Ready for Every Eventuality
Even more basic than that is the simple rule about staying on your toes, just like a boxer. Take receiving service as an example. Your opponent may go left, right, deep or deliver a shorter, high-kicking ball. You've got to be ready for every eventuality, and that is not going to be achieved by being flat-footed and waiting till the ball is almost on top of you before reacting to its flight. Because by the time you've absorbed all that information and decided how to act upon it, the ball will be nestling in the fencing at the back of the court and your opponent will already be on their way across to play the next point or counting off another service game won - probably to love given your snail-like reactions.
The same principle applies when the ball is in play. Don't hit a cross-court forehand or a backhand down the line, and then stand and admire your handiwork. You've got to execute the shot, then get your body back into shape to react to your opponent's counter-attack. Otherwise you'll still be giving yourself a psychological pat on the back as the ball comes back over the net and whistles past you - another point dropped due to lack of discipline.
Adjustment to Body Shape
Now that you've got the message about staying on your toes, think about how you are using your feet. Getting into shot position might require several long strides, or alternatively just a couple of half steps to make that small adjustment to body shape, so get used to mixing it up. You don't have to have an opponent on the other side of the net. Just pick up the racket and play a rally in your head, dashing to one corner of the court, then using your feet to shuffle a foot or two to your right. Move forward into a shot before quickly back peddling to counter an attempted lob. Not only will it sharpen those feet but it represents a handy little workout for the thighs and calves. It will also help your spatial awareness, making each inch of the court and its angles a lot more familiar to you.
Underlying all this footwork are good fitness levels. And the better you get and the better the standard of your opponents, the longer your matches are likely to be, so keep working on stamina, cardiovascular efficiency and muscle strength. Don't forget those stretching exercises both before and after matches, too. Returning to that boxing analogy, remember that you will never deliver a knockout blow if you hardly have the energy to get up off your stool when the final round comes.
You might also like...