Serve and Volley or Baseline?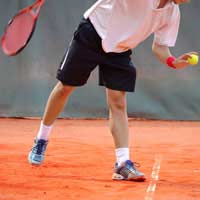 What are the aims of the amateur player? Well principally to enjoy themselves, improve their game, and hopefully win some matches along the way. And winning matches means channelling your ability as efficiently as possible.
The same applies to fitness. Don't go dashing around the court if you are still in the early stages of building strength and stamina. Instead, use the range of shots that you have acquired in order to attempt to impose your own pattern of play on the game.
The two classic tennis strategies are serve and volley, and baseline. Of course, some players like to mix these up a little to keep their opponents on their toes. But many players prefer to follow a single approach simply because it fits in with their individual strengths. This may have been influenced by the particular surface that they were exposed to from an early stage. Slower clay, for example, is more suited to baseline, whereas serve and volley is traditionally the classic approach to playing on grass because of the faster nature of the surface.
Fast, Accurate Serve
Which is the more difficult approach? Many people will tell you the answer to that question is serve and volley because not only do you have to deliver a fast, accurate serve that allows your opponent little time to respond with an effective return, but you also have to get your feet in position and possess a good, strong wrist that can meet the returning ball on the rise and punch it back down into the open court for a winner. It's certainly an imposing strategy and when executed by a talented player, it is so demoralising for an opponent that they can quickly mentally surrender the match.
If, however, you don't possess the required service, quick feet and good control of the racket face, then baseline may be the answer. This is not to say that it is a strategy that requires less skill. Remember that you'll be hitting from the back of the court deep into your opponent's territory and with great accuracy in order to put good pressure on their return. You'll also have to learn to mix it up, throwing in the occasional drop shot to force the issue.
Explosive Power
Excellent concentration is required too, because evenly matched players are going to produce rallies that are wars of attrition, won as much on mental strength as on racket technique. In terms of fitness, you may not need the explosive power over the ground of an exponent of serve and volley, but you'll still need to be patrolling that baseline, and have the shoulders and legs to cope with regular positioning adjustments in switching from forehand to backhand.
Players new to the game should opt for a baseline approach because not only will it provide regular drills in forehand and backhand that will improve technique but it won't bring the despondency that some feel when they try volleying and encounter problems in getting to grips with it. Remember that the volley is one of the most difficult shots in the game to master. So if serve and volley is your ultimate aim, you'll need plenty of patience while your technique develops.
In the end, it will be your particular strengths that decide your approach to the game. Continue to work on your fitness and technique to be the best you can be. But don't forget to have fun while you're doing it.
You might also like...