Tennis: Service Technique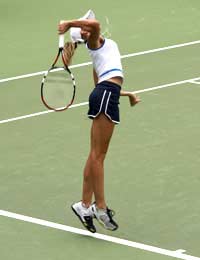 In the wrong hands, service can be a devastating shot. Particularly for unsuspecting players on adjacent courts who weren't expecting a high-velocity white or yellow missile appearing in their peripheral vision. In part this is the fault of television and the exposure of many amateurs to the big servers at the grand slam events. Excited commentaries of so-called gunslingers, firing 100 mph-plus services at each other over the course of five sets have resulted in too many impressionable players thinking that it's all about how hard you hit the ball.
But take a look at the service box. It offers ample scope for the wily practitioner of the service to hit close to the centre or tramline, or slice it away from a forlorn attempt at a forehand return. If the more subtle approach fails to pay dividends, then, yes, there is the option of delivering one of those aforementioned unplayable thunderbolts that is upon the opponent before they have even thought about how they would return it. But to do that requires a combination of power and technique that is beyond the vast majority of players.
Double Faults
The solution? Get that technique right, and introduce only the amount of power that will allow you to deliver a high percentage of "good" and effective services. In short, there is no point being a big hitter if you are regularly producing double faults.
Begin by developing a good service toss that results in racket and ball meeting just forward of your body. Too far back and you'll tie yourself in knots; too far forward and you'll be drilling the ball into the net or even your own side of the court. Throwing the ball a little further forward will result in more power but this is a stage in your development that can wait until you have got to grips with the basics.
Good strong legs are the basis of any serve, so be sure to do some gym work that builds these foundations. Next, start working on the co-ordination between your serving arm and the rest of your body. Don't rush: think about every aspect in isolation – feet, hips, shoulders, head, toss and racket arm – and how they interact with each other. You want to achieve a smooth action that will mean you are turning and throwing your weight behind your racket as it whips forward and onto the ball. Use drills without a ball and racket to develop the relationship between your upper and lower body that will produce an action that combines accuracy and power.
Serving Arm
Always pay attention to your serving arm because you want to avoid any attempts to "force the ball", thereby putting too much strain on the shoulder and risking injury. This is simply asking one component of your service technique to compensate for deficiencies elsewhere – and it won't work. Develop a smooth follow-through, too, that brings your serving arm down and through the ball, and your body into the court, head raised and ready for your opponent's return.
If your service isn't working, hit a few in the presence of a playing partner who may be able to identify where you are going wrong. If the problem is more deep seated, you will need the attentions of a coach. He or she will also be useful further down the line in adding more variety to your service repertoire. But in the here and now, don't be too ambitious. Accuracy is your aim. You'll be pleased with the results, and so will the players on adjacent courts.
You might also like...