Get to the Next Level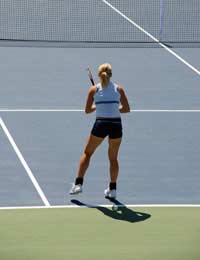 Playing tennis for fun is more than satisfying for a great many players. But for those who find that matches are becoming a little too easy or who are frustrated that their ability appears to have plateaud, what is the solution?
Most obviously, to get better, you've got to compete against ,and ultimately beat, better players than those of the standard you are accustomed to. In the case of those who are already club members, it's a case of speaking to one of the coaches or perhaps approaching individuals and asking them when they have a free slot to play. Park players of course lack this network, so this is the time to seriously consider finding a good local club that will solve this immediate problem.
However, even playing better individuals on a casual basis is not really the best solution. To get better, you need competition. And not just a Sunday afternoon five setter but a structured, well organised event that will have the butterflies churning in the stomach and an unfamiliar, mean looking face on the other side of the net.
For UK-based enthusiasts, entering tournaments involves gaining a player rating from the Lawn Tennis Association. The process involves a questionnaire, and for those applying for the first time, they are likely to be issued with a beginner's rating of 10.2. Tournaments are graded according to ability in order to make it easy for players to target those that match their current playing level.
Technical Weaknesses
If you are taking the step up to tournament level, be sure to invest in some coaching lessons that will target the technical weaknesses in your game. Learning from your mistakes is all very well when playing on a casual basis, but take the same approach into a tournament and you'll be out in the first round. Remember this is dog eat dog tennis, and nobody is remotely interested in holding back simply in order to guarantee an enjoyable game for both players.
As well as working on your technique, look at the physical side, too. Ask your coach for some fitness drills that will improve both your stamina and strength as well as sharpening your footwork on court. As an example, try some lateral exercises that aim to improve sideward stride patterns, from a rapid number of half-steps to get you in position for a forehand to hops that involve a quick change of direction in order to respond as efficiently as possible to an opponent's power play.
Focus on your equipment, too: adjustments to string tension, grip, even weight of racket can all pay dividends. At the very least it is worth experimenting.
Mental Discipline
Don't forget that mental discipline, either. Tournament organisers frown upon players that believe aping the antics of the game's more controversial stars will be tolerated. You will only succeed in quickly gaining a bad reputation, and don't think for a moment that word won't get around that here is someone who shouldn't be welcome at future events. That bad temper of yours will do nothing for your match play, either.
Tournament play is exhilarating. It can also be hugely frustrating. But step up your preparation work, both physically and mentally, and it should add an extra dimension to your enjoyment of the game.
You might also like...