Mental Strength: Don't get Angry, get Even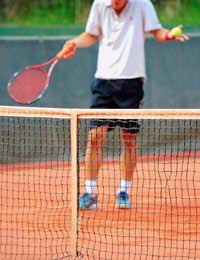 There is nothing more annoying than having to suffer the hissy fits of a frustrated player on an adjacent court. All that shouting and swearing, and banging that expensive racket head on the surface or top of the net. If you're really unlucky you may have to duck to avoid a stray ball struck in anger as yet another perceived injustice or poor shot has the tortured soul lashing out.
Where does all this anger and frustration get anyone? Precisely nowhere. In fact, rather than having a positive effect on their game, it is likely that they will simply fall to pieces, meekly surrendering the match and heading off to curse their luck.
And that's the principal problem with players who allow themselves to get into this mental state. They blame the racket, the balls, imperfections in the court surface. There's also the old stand-by of accusing the opponent of incorrect line calls. Well, that's a polite way of putting it. In reality they are accusing someone of being a cheat.
Winning Mentality
If putting on a pair of shoes and picking up a racket only results in making yourself and everyone around you miserable, then don't bother. The game can do without that sort of so-called competitor. Having a winning mentality can be a potent weapon; crossing the line and allowing that aggression to be channelled in a negative way is turning that weapon on others and most crucially yourself. From there, defeat is only a matter of time.
Everyone is frustrated from time to time on court. Everyone wants to do their best, and it can be so frustrating when you're putting in the effort but shots are just not coming off. It may well be that your technique has not yet reached the required standard to make those shots. That is putting too much pressure on yourself. On the other hand, you just may not be performing on a particular day – it can happen to the best players.
Anger Clouds the Mind
So how do you get yourself out of this mental rut when you feel the blood begin to boil? Well, you've got to understand that anger clouds the mind, it ruins concentration both on the match and on technique. You're so busy fuming over an overhit shot that suddenly you find a routine back-hand is nestling at the bottom of the net. Why? Because you're not concentrated, you're not getting your feet, your hands and your racket into position to make the shot.
Anger is a vicious circle on court. The angrier you get, the worse you play, and the worse you play the more frustrated you become. And guess what? This only makes you even more angry! Get the picture?
So forget all this cod psychology about needing that aggression to play better. It doesn't happen. Training your mind is every bit as important as learning how to hit good forehands and service returns. So keep calm and controlled when a game isn't going your way. Ride the storm and you'll find that the pendulum will begin to swing back in your favour.
You might also like...