How Tennis Lessons Improved My Technique: A Case Study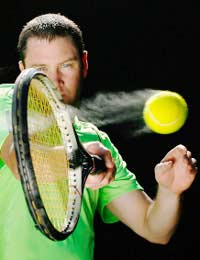 Every summer, typically around the time of the Wimbledon Championships, public tennis courts the length and breadth of the UK are packed with amateur players trying to emulate the greats of the sport. Most have limited ability and are focused primarily on getting the ball into play, but Neil Hadley wanted to get more from the sport.
"I grew up on a housing estate in Manchester and my parents didn't have money to pay for tennis lessons," said Neil, now a London-based computer programmer. "There's no way I would have even asked my dad to pay for tennis lessons – he'd have thought I'd lost the plot!"
"We did play tennis as kids, though. There wasn't a proper net, of course. In fact, there wasn't even a proper court. It was more what you might call street tennis – we would play up against a wall or mark out a makeshift court with lampposts and police cones and hit the ball to one another."
Losing to Fat Blokes
"When I moved to London, I started to play a lot more tennis and eventually joined a club. Fitness has never been a problem for me and I was happy to run about for five sets, but I felt my technique was letting me down. Basically, I was sick and tired of losing to a lot of fat blokes who had me running all over the court while they hardly broke into a sweat!"
"I signed up for tennis lessons and, sure enough, when I told my dad he thought I'd lost the plot! It worked for me, though. I joined a course for improvers, thinking that the beginners' course would be too basic for me. In reality, I had to forget everything I thought I knew about tennis and start again."
"Everything I was doing was wrong, from my grip on the racket to my footwork. The coach wasn't too happy with my serve, forehand, backhand and volleys either! It was quite difficult at first, because I felt as if I was going backwards and it was easy to slip back into bad old habits that felt more comfortable."
New Found Motivation
"But the coach offered plenty of encouragement and my motivation increased tenfold once I started to see an improvement. My technique improved beyond all recognition, to the point where I'm a bit embarrassed when I think back to what I must have looked like running about the court before the lessons."
"My serve is more accurate and more powerful and I can now hit a proper slice backhand. I can even hit a topspin backhand and if I'd tried that before the lessons the ball wouldn't have landed in the same postcode district! I'm faster about the court too because my footwork is so much better. It's amazing how much my whole game has improved just by getting my footwork right."
"I didn't get all that from the improvers' course – I've been on intermediate and advanced courses since then. The coach took time to discuss tactics with me and was happy to work on areas of my game that I felt were weak, but the best thing is that I'm not losing to fat blokes anymore!"
You might also like...