Squash Club Was Good for My Business: A Case Study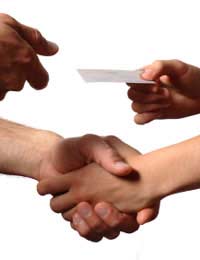 There is a saying in business that it's not what you know, it's who you know. John Holmes found there was a certain truth to that when he joined his local squash club and got a lot more than he bargained for.
"There is no way I had a hidden agenda when I joined the club," said John, a 32-year-old public relations consultant from Glasgow. "People may look at what has happened since and think that it was all part of some master plan, but that's honestly not the case – I've not got the nous to pull that off!
"I joined up for the same reasons most people do – to play the sport I love, keep in shape and make new friends. I'm not from the city – I was born and bred in Ayrshire – and I thought it would be a good way to meet people."
Networking
"It was, of course, and a lot of the guys liked to give it everything on the squash court and then go for a drink. I was more than happy to join in and I got to know a lot of people very quickly. I guess they call it networking in the business world, but I was a bit naïve and, at first, didn't make the link between socialising and working.
"I had a fledgling public relations business at the time, having just made the leap from employee to self-employed. Like a lot of new businesses, it was touch-and-go for the first couple of years, but then I started to get work through the squash club.
"Some of the guys at the club – a lawyer, a builder and a financial consultant – were in the same boat as me in that they were just starting out with their own businesses. They wanted to get their businesses notices, in short, they wanted a public relations consultant but had found the bigger PR firms in the city were either not interested in taking on small businesses or were too expensive."
Word of Mouth
"That's how it started. I stepped in and they were happy with the work I did. Word spread and before I knew it I had more work than I could handle. I had to become an employer to keep up with the demand and now have quite a big staff.
"Without the squash club, I'm just not sure the business would have taken off the way it did. There were a lot of like-minded people at the club, people who liked to work hard and play hard, and some of my best and biggest clients are friends – blokes I still play squash with at the club.
"I'm definitely not saying that by joining a squash club your business will take off, because I knew what I was doing. I had worked in the PR business for more than a decade, working my way up from the bottom, and I like to think that the product I delivered was a good one. But you hear stories about a lot of big business being done on the golf course and now I know that there's a fair amount done on a the squash court too – or at least in the bar after the match!"
You might also like...