How My Fitness Affected My Tennis: A Case Study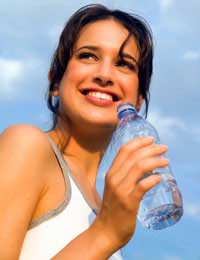 Plenty of tennis players take lessons to improve their technique and are rewarded by better results on the court. Not as many club players are willing to work really hard on their fitness, but Amy Campbell was and found she got more enjoyment from her favourite sport as a result.
"I was still at school when I got my first tennis lessons and I've had a whole lot since," said Amy, a Surrey housewife and mother-of-three. "We have even been on tennis holidays as a family and these are a great way to improve your game because you can lock yourself away and think of nothing but tennis for a week.
"Even though I would recommend tennis lessons to anyone, it got to the point that so many professionals had looked at my game and tweaked it that I felt I'd done as much as I could to improve my technique. Then a friend suggested I try cardio tennis, a kind of high-energy workout."
Cardio Tennis
"To be honest, I wasn't too keen at first. I went to the gym twice a week and felt I was in pretty good shape already. My friend sold the idea to me by insisting it would improve my game, so I dropped one of my weekly visits to the gym and tried cardio tennis instead.
"It was so much fun that the time flew by and it didn't feel like a workout at all. But by the next day I knew it had been a good workout because my muscles were aching. My friend was right too – after a few weeks I started to notice the benefits on the court.
"There are three elements to cardio tennis – a traditional tennis practice, stamina-building skills and exercise measurement technology. By chasing down balls, you can work on racket skills, reaction time and hand-eye co-ordination. When not hitting balls, there are sideline exercises and fast-paced drills set to heart-pumping music."
High-Intensity Workouts
"It combines short bursts of high-intensity workouts with periods of rest, and a heart-rate monitor tells you when to pick up the pace and when to slow it down. It was explained to me that the optimum calorie burn occurs at between 65 per cent and 85 per cent of a person's maximum heart rate, so by using the heart monitor it is easy to burn calories and get a great workout.
"I reckon that cardio tennis is a great introduction to the sport for beginners too. A few members of the group I was in had not played a lot of tennis and just signed up for the workout. It works for players of all abilities and will develop skills regardless of a player's level. As long as you can swing a racket, you can try cardio tennis as a fun alternative to the gym and might even fall in love with the sport.
"As for me, I'm faster around the court and can now get to balls I would have struggled to reach 10 years ago. I'm now getting the full benefit of all these tennis lessons I took, because I can get into position to the play the shots quicker and that makes it easier to concentrate on the technique needed for the shot rather than just knocking the ball back over the net."
You might also like...