Badminton: Winning at Singles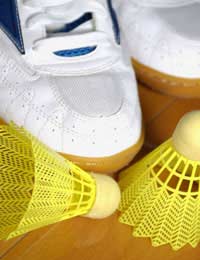 The singles court can be a lonely place. Especially if you find yourself up against it. But the only person you can rely on is you. There's no coach to hold your hand to give you the psychological lift to offer escape from a tight spot. And no partner to pick up the baton if you are experiencing a temporary dip.
There are four basic areas you should be addressing in your approach to singles:
fitness
mentality
technical ability
tactics
The first category speaks for itself. You are going to have to cover plenty of court, especially against an opponent with a comprehensive range of shots, so take a long hard look at both your nutrition and your exercise programme. Ensure that when you go out on court, your body is up to the challenge. Remember that with two evenly matched players in terms of technical ability, the destiny of the match often rests on who has the greater fitness levels.
Mental Discipline
Think positive, too. Stay calm and focused, especially if the first few points don't go as you planned, or you find your opponent is in a rich vein of form. The time for recriminations is after the match is finished. If you too quickly decline mentally, then it will be over a lot sooner than you anticipated.
Of course, this mental discipline tends to come with experience. Certainly it is always good to be able to draw on past encounters and use them as a means of lifting yourself at vital moments. And if you do find your blood beginning to boil because you just aren't performing to your potential on a particular day, remember that anger is only going to hinder, not help your performance. So cool it.
Technical ability is another aspect that is going to improve over time, but as you develop your game, be careful not to let some of the more basic shots get sloppy. You may have performed a routine backhand or drop shot a million times, but that doesn't mean you can just switch off. Fail to get you feet right, your body shape correct and your racket control spot on every time, and your game will quickly begin to fall apart.
Winning the Point
In terms of tactics, this is much easier if you are familiar with your opponent's game. Possessing a good idea of their strengths and weaknesses means you can plan accordingly to, say, use the back- or forecourt more. If they struggle on smashes or drop shots, manoeuvre them into situations where they have to use these shots because this will maximise your chances of winning the point.
With an unknown opponent, you are going to have to play yourself into the contest, feeling them out for potential weaknesses and watching how they react to certain scenarios. Be sure to mix up your shots as much as possible to avoid becoming predictable – that will be handing your opponent an easy advantage. Once you produce an error on a particular shot, or a weak reply sets you up for an easy kill, make a mental note because it may provide you with an exit strategy if your opponent thinks they have you cornered during a long rally.
Singles play is immensely satisfying, even sometimes when you are on the wrong end of a result. As long as you have competed to the best of your ability and contributed to an entertaining game, then you can hold your head up high next time you go on court.
You might also like...