Badminton Forehand and Backhand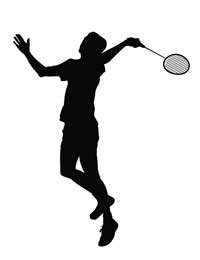 The cut and thrust of badminton means that you've got to be ready to repel attacks from whatever angle they come from. This means you must be confident playing from either side of your body and be able to offer a range of shots, too; from a clearing shot, to a lob, smash, or drop.
Let's start with the forehand. You can use plenty of backswing for power, or equally, use a strong wrist to flick more speed into the shuttle. But so much of the success of any of these shots will be determined by you having the right body shape. That means keeping on your toes on court, and concentrating in order to observe your opponent and anticipate their shot making. This will provide that split second extra that can give you time to move into position quickly.
Clearing Shot
For a clearing shot that requires power in order to achieve depth, make sure the weight of your body shifts from back to front foot as the racket head swings forward to meet the shuttle just ahead of the shoulder of the playing arm. For a drop shot, use slice to produce fade on the shuttle rather than simply slow down the movement of the racket arm as this will give away your intentions to your opponent.
If your aim is to smash the shuttle, get into position early in order to prepare yourself for the explosive action and hit the shuttle in front of you, but not too far in front to avoid the danger of simply driving into the net and your body leaning forward rather than upright in a nice, open position to react to the next play.
Backhands are always going to make beginners slightly nervous because the action does not come as naturally to them as the forehand. However, good execution requires a steady but smooth movement of the racket arm, so try to relax slightly. This will not only accelerate the improvement in your backhand but will also build up your confidence in your ability to execute it.
Positive Position
Good footwork is essential because the success of the shot will depend on you getting in a positive position to make it. Follow the flight of the shuttle with your eye while using step combinations in order to get underneath it as it begins to fall. Your arm should be high, elbow bent in readiness for the swing but close in to your body. Use your wrist to generate power with minimal follow-through. This drill applies to both a backhand clearing shot and a smash.
For a drop shot, replace the flicked wrist with control of the racket face using the entire length of the arm in order to guide the shuttle on its slow descent down, hopefully, to the floor of the court on your opponent's side of the net.
Practice sessions will sharpen both your forehand and backhand skills, but nothing can replace match play for determining whether you can keep your body, footwork and racket technique working as one when the pressure is on.
You might also like...