Badminton: Learning to Play Doubles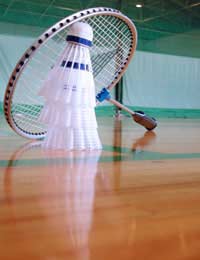 Successful doubles teams provide mutual support when the going gets tough and complement each other in strategic terms in order to impose their authority on the game. Naturally, this relationship will benefit from time and experience in each other's company on court, but there are some fundamentals that will mean success is more likely to be achieved.
Let's begin by addressing individual strengths. How good is one partner at delivering the coup de grace through, say, a smash? Which one is more adept at luring their opponent's into a trap with good drop shots? The best partnership will be made up of players that each have these separate qualities. The former is referred to as the hit player, the latter as the set-up player. Each role is equally important, although there is a certain degree of glamour attached to the role of the hit player, in the same way that in football, goal scorers always seem to be the ones who grab the headlines.
Kill Shot
However, any hitter will tell you how important the set-up is, and how much skill that is required to orchestrate the opening for a kill shot. Of course, they will then go on to tell you how they ruthlessly dispatched the shuttle down the throats of the opposing team. But, hey, a certain amount of ego is never a bad thing.
Hit and set-up players can operate either in the front or the back of the court, depending upon the particular strengths in racket technique they possess, but whichever formation is adopted, each individual has got to remember that each point should be a team effort and they must stick to the role that they have been designated.
Players should always keep a keen eye on their fitness and the importance it has in doubles play. Yes, there may be two of you on your side of the court, so twice as many feet to cover the ground, but the same is true on the other side of the net – the pace is likely to be frenetic. You'll also have to co-ordinate your movement with that of your partner, too, so a keen eye on both your partner and your opponents as well as fast feet are essential.
Constant Dialogue
As well as the physical and technical issues involved in playing doubles, either as level (single sex) or mixed, there is the mental side. That mutual support needed to keep a rally going is also important when one player begins to lose their concentration, either through frustration with their own performance or their partner's. Loss of concentration can also occur through fatigue. Ensure that there is a constant dialogue between points, and encouraging remarks exchanged when a good play has resulted in a point won.
On no account let frustration begin to eat away at your relationship during the game, because that is fatal. Not only will you stop working as a team, but these problems will not go unnoticed by your opponents, who will most certainly exploit them to the full. Once you stop working as a team and in-fighting takes over, you can kiss goodbye to the match. You may also be kissing goodbye to a good on-court combination.
You might also like...