What Equipment Will I Need?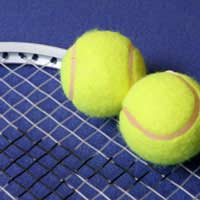 Every guy on the tennis courts would like to wear the sleeveless vest and headband sported by the self-styled king of clay, Rafael Nadal. But let's face it: first of all, you are going to need the ability to justify such flamboyant flights of tennis fancy. You'll require the well-toned biceps of the Spaniard, too. So perhaps it's better to forget such fantasies, at least for now.
It is all too common, whatever the sport, to see newcomers overdressed in terms of their individual ability. There seems to be a tendency to believe that whatever the leading players wear, then choosing the same label, albeit a size or two bigger, will somehow transform the overenthusiastic amateur's game instantly from the mediocre to the magnificent.
The same is true of tennis, badminton or squash rackets. What does men's world number one Amr Shabana use on the squash court, or top women's talent Nicol David? Surely choosing the same make will give you the edge? Unfortunately, the reality is that it is the hand holding the racket, rather than the racket itself, which pulls the strings during match play.
Value for Money and Durability
The solution is to banish any misconceptions that investing heavily in equipment and clothing is going to provide a shortcut to good results on the court, and instead concentrate on solid, well designed items that will provide value for money and durability.
In terms of playing shirts and vests, shorts and skirts, look for those manufactured from material that allows for good air circulation while wicking away perspiration from the surface of the skin. This means that even under intense pressure on court, you will remain as cool and dry as possible. A number of high-profile brands utilise these types of material, so shop around for the best bargains.
Ensure also that the material has stretchable properties that will offer maximum manoeuvrability. To finish off your clothes shopping, invest in a top and tracksuit bottoms - these will prevent your muscles losing heat after stretching exercises or a warm-up routine.
Squash players should be aware that the international governing body, the World Squash Federation, recommends that all players wear eye protection, while for juniors, glasses or goggles are compulsory on court. There are a number of models on the market: lenses tend to be manufactured from polycarbonate with overall design geared towards maximum protection without restricting field of vision.
Traction Properties
When buying tennis shoes, bear in mind the court surface you are regularly playing on as, for example, porous macadam or acrylic will require different traction properties than clay. Footwear suitable for playing indoors should have the same characteristics as those for badminton and squash; namely, breathability and good support. Shock absorption is another essential feature. An extra layer of cushioning for the tendons and bones of the foot can be added through selecting a good pair of tailor-made socks.
In terms of added support, knees, ankles and wrists can benefit from a layer of neoprene, but use this type of protection wisely. Remember that you should never play through pain, and don't use a support when the reality is that your body is in need of rest and recuperation.
Sweat bands for either the wrist or head are another optional extra. Worn for the right reason, they can be very useful but unless your game is up to the standards of a Wimbledon finalist, nobody is going to mistake you for Nadal. So don't let vanity rule your wallet.
You might also like...