Choosing the Right Racket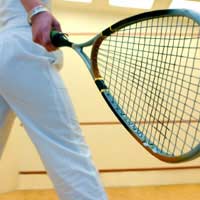 One rainy afternoon at Wimbledon 2007, BBC TV filled in a prolonged rain delay in play with a discussion between those old tennis masters Jimmy Connors and John McEnroe about the rivalry they enjoyed during the 1970s and 80s. During the cut and thrust, the thorny old question of racket technology reared its head, Connors remembering his switch from wood to one of the first metal framed models, a Wilson T2000. By contrast McEnroe burst onto the scene with a wooden Dunlop racket before subsequently switching to carbon fibre, the latter providing a stronger, lighter and more powerful foil for his skills.
Nevertheless, McEnroe is definitely no lover of how new technologies have transformed the game, telling USA Today: ""I'm 48 now, and I hit my serve harder than when I was 25. It's gone way too far."
These same advances have been seen in badminton and squash, with carbon fibre, aluminium and titanium among the materials that have superseded wooden frames. As with tennis equipment, the developmental revolution has been driven by the demand for lighter, stronger rackets that can hit the ball or shuttlecock harder.
"Frying Pans"
There has been a range of head sizes, up to supersized tennis models, so-called "frying pans", as well as variations on head shape from the traditional oval to isometric. Of course at the heart of the debate is the question that McEnroe alluded to: whether this has had a positive effect or instead compromised the soul of each sport by making it easier for less talented players to compete on a level playing field with those who are technically superior.
However, while all this soul searching continues, it still leaves those new to their chosen racket sport with one hell of a headache. Just where do you begin thumbing through the numerous catalogues and online offers, or the racks of specialist sports goods shops, to find the racket that will get you started?
Take squash rackets as an example. There are balanced models, others with a heavier head. What about beam width? Thinner or thicker? And how about the weight? Have you considered whether you want an open or closed throat? For the uninitiated, the former means that the racket has a larger sweetspot, increasing the likelihood of making good contact with the ball. Then there is the thorny question of the grip.
Among the features that badminton players should be considering are head shape and weight, shaft flexibility and shaft length. For example, in terms of the "flex" of the shaft, the stiffer it is, the less forgiving it is of lower technical ability. So inexperienced players are advised to choose a medium-stiff, normal or flexible model that won't accentuate their relative lack of skill.
Design and Specification
It is always worth seeking the input of club members or personal friends who play your chosen sport. Try their rackets out on court to see how they feel in your hand. You'll soon begin to notice how design and specification affects how individual rackets perform. Aim to buy a balanced "all-rounder" that will get you in the swing of things rather than a more advanced racket that will tend to inhibit rather than help you progress. Remember, too, that some players stay loyal to certain manufacturers, so their advice may be rather coloured by personal preference.
A few days after the McEnroe and Connors debate, Wimbledon 2007 culminated in another victory for Roger Federer - that's five in a row and counting. And what does the Swiss use on court? A KSix.One Tour Wilson with a 90sq inch headsize and an unstrung weight of 340 grams. That sounds like too much information already. The bottom line is: will it make you play like Federer? No, but if it only serves to provide a psychological boost, then whose to argue that it isn't worth the £150-£200 price tag.
You might also like...