Squash: The Right Mentality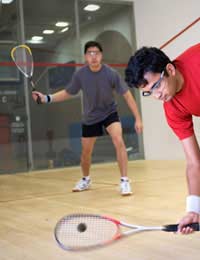 What separates the greatest players in the world from those who miss out on immortality by a whisker? So often it comes down to having the mental strength to see out a match. To possess the self-knowledge that whatever an opponent does you will not yield. They cannot win because you are the superior player. There will only be one outcome.
This is not to suggest that technically inferior players can simply waltz on court and punch above their weight on ego alone. What we are talking about are tiny margins upon which victory or defeat is decided. When two evenly matched players go head-to-head, it is these tiny margins that are the difference. And so many times, these margins revolve around what is going on inside the head of an individual player.
So, firstly you must believe in yourself and your ability to compete effectively. Secondly, you've got to be mentally tough. This toughness comes in two parts: first, when a match looks like slipping through your fingers, when you feel your opponent has you on the ropes, you've got to be strong enough mentally to fight back. You've also got to be tough enough to suppress anger or feelings of resentment when an individual play doesn't go your way. Whatever happened during the last point, it's in the past and can't be changed. Far better to concentrate on what you can have an influence on: namely, the next point.
Mental Preparation
The importance of mental preparation before every match should never be underestimated. Just as you wouldn't think of neglecting your warm-up routine to prevent any niggling injuries, so your mind, too, needs some care and attention. This means allowing for plenty of time in the locker room prior to going out on court. Arrive half an hour before the match, get changed, pick up your racket and sit quietly, thinking through what you want to achieve. If the locker room is busy, find a quieter spot so that you are relatively alone with your thoughts. On no account arrive late, with just enough time to throw on your kit and dash onto the court. You'll be in no state mentally to play to your potential.
Aspects of Your Game
Once the game is over, allow a similar time period for a mental warm down before joining your opponent or fellow club members for a social drink in the bar. Think about what you've achieved in the game, and where you could have improved. On no account dwell on the negatives; rather consider which areas you can build on and strengthen.
Is it your volleying? Are you not getting around the court as quickly as you would like? Whatever aspects of your game need to be addressed, think of the process as a positive one. After all, identifying a weakness is the first step towards ironing it out of your game.
Be appreciative, too, in any post-match assessment of your opponent's ability. Remember that nobody just gets lucky over the course of an entire match. Competitiveness is one thing; being overly competitive is counter productive and will slowly eat away at your enjoyment of the game.
Just like building stomach muscles or strengthening your legs, you will find in time that targeting the mental side of your game will have positive results. You'll feel more confident, more focused and, therefore, better equipped to meet the challenge next time you pick up your racket.
You might also like...