Squash: Getting to Grips with your Racket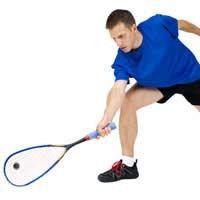 How you treat your racket is going to impact in a major way in how you perform on the court. Use it like an axe, gripping it firmly and making fierce downward strokes at the ball, and you are not going to get very far. Too subtle a touch is going to mean that there is little or no beef behind your volleys and backhands, and the racket is going to move around in your hand with disastrous results. So a solid, but relaxed, contact between handle and palm is the right approach.
Hold the racket in front of you towards the top of the shaft with your non-playing hand, the frame facing upwards so that the strings are at a 90-degree angle. Address the shaft with your playing hand in the middle of the grip as if you were shaking hands with it, palm resting on the side bevel, fingers curled around with the index finger forming a V-shape with the thumb that is curling around the top bevel. Remember not to hold the racket too firmly.
Now try a few strokes, forehand and backhand. How does it feel? If you are experiencing all the movement in your wrist and shoulder, then you've got it right first time. If, on the other hand, you've got the equivalent of a white-knuckle ride going on, then loosen up slightly.
Efficient and Seamless
Once that junction between arm and racket is efficient and seamless, it's a case of ensuring that the racket head is nicely poised so that it can react to shots in plenty of time. This means just above hip height, so that it can easily travel to shoulder height for a volley and down to knee height when a shot needs "digging out" from close to the surface of the court. The face should be slightly up and open.
Keep the racket in line with your body, too, rather than in front or behind so that it is nicely poised to begin the back swing as quickly and easily as possible. This will also mean that your body is nice and open, thus maximising your ability to move in any direction quickly.
Added Comfort and Control
The racket grip can be customised either by using a replacement grip, a thin replacement grip or an overgrip. A thin replacement, for example, can mean you don't have to pay to have a new grip fitted when it has worn down. It can also be used simply to make the existing grip thicker for added comfort and control.
Similarly, individual models of overgrip can provide extra cushioning, or rippling for better finger positioning. There are also "high-tacks" that aim to offer a more secure grip through a tacky surface, as well as towelling and air perforated models. These grips are usually available either individually or in multi-packs. It can pay off to invest in one or more types of overgrip to see whether you find one offers more comfort or performance than your present grip.
It is important to get your grip right from the start. You'll feel much more comfortable interacting with the racket and thereby alleviate many of the unforced errors that can be dispiriting for those in the process of learning the game.
You might also like...