The Importance of Stretching Exercises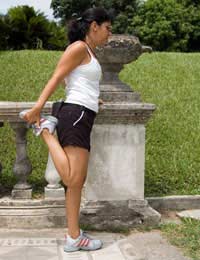 Performing well on the court is all about preparation. In terms of the physical side of the game that means ensuring that your body is tuned up and ready to go from the moment the game begins. There is no such thing as easing your body into the action; it's got to be ready to arch back for a smash, or low down for a retrieval shot from the off.
Stretching exercises are, therefore, essential for two reasons. Firstly, to ensure that your muscles are warmed up and supple enough to respond to the demands you will be making on them; secondly, to avoid unnecessary injuries caused by your body quite literally being caught cold.
Second Nature
If you are unsure which areas of the body and muscle groups you should be addressing, it is a good idea to book a session with one of the personal trainers at the local gym. He or she will be able to draw up an easy-to-follow programme that suits your requirements. It's certainly not rocket science that they will providing. You will quickly become accustomed to feeling that pull as you stretch the muscle, and how your limbs and back become so much more supple. But it is worth getting each set of repetitions right from the start in order to ensure that bad habits do not creep in.
It is important to build these exercises in to your pre-match and pre-training regime from the very start in order that they become second nature. And not only should they precede any exertions, but they should also be utilised at the end of every session as a chill-out zone to physically ease back down through the gears.
Many people new to exercise often complain that two days after finishing a session, they can't get out of bed because their muscles are so stiff. This is the classic indication of someone who has failed to warm down. The body has undertaken the equivalent of an emergency stop: from travelling at 70mph, it is suddenly back at zero. This is completely unnatural, doesn't allow the muscles the necessary time to gently and steadily return to equilibrium and results in the aforementioned stiffness.
Before and After Exercise
Even the most casual athlete knows that stretching the Achilles tendons and hamstrings is an essential part of preparation both before and after exercise. But racket players in particular must pay close attention to the hips, upper body and back. The hips, after all, are the fulcrum of every movement on court, so they've got to be nice and loose. Similarly the back is going to be taking a huge amount of strain, both bending and flexing. Shoulders, too, can suffer if, for example, they are not properly prepared for the demands your service action will make on them.
Exercises not only loosen muscles but also release any built up tension that can inhibit movement. Remember to ensure that your chest is nice and open, and that stiff neck from too many hours at the office computer is freed up.
Warming up your body will have a knock-on effect on your mental state, so that your mind is clear and able to focus on the challenge laid down by your opponent.
You might also like...